My friends and family already know that yellow flowers are my absolute favorite, so this post is to share some favorite yellow wedding inspiration ideas. When it comes to wedding colors, pink and white are always classic and popular. But yellow is a great color choice for weddings and in my opinion, it is underutilized. You can have a yellow wedding that is elegant, rustic, modern or feminine, there are so many great ways to incorporate yellow into the overall wedding design. Yellow can be paired with neutrals for a really elegant look, other bold colors for something more fun and modern or pastels for a really pretty and romantic vibe. We love working with clients in the DC area to plan and design their wedding. Today we are sharing 10 of our favorite ways to incorporate yellow wedding inspiration:
1) Wedding Ceremony – The lush and abundant yellow sunflowers provide such a romantic and memorable wedding ceremony design. I love how the yellow sunflowers provide a canopy over the ceremony arch and are carried over to the ceremony aisle.

2) Rustic Linen and Tablescape – This yellow checkered linen is a perfect option for a more casual wedding, outdoor bridal shower or summer picnic event. It is equal parts rustic and sweet for your summer wedding design.

3) Wedding Centerpiece – How pretty is this yellow centerpiece? I love the mixture of yellow flowers in shades of butter, lemon and nude paired with greenery. The overall design is very elegant and romantic.

4) Bridal Bouquet – The full yellow flowers with accents of white and green make a wonderful bridal bouquet. And the trailing gold ribbon is a perfect accessory.

5) Bridesmaid dresses – These yellow bridesmaid dresses are so chic! It is a perfect look for a Spring or Summer wedding.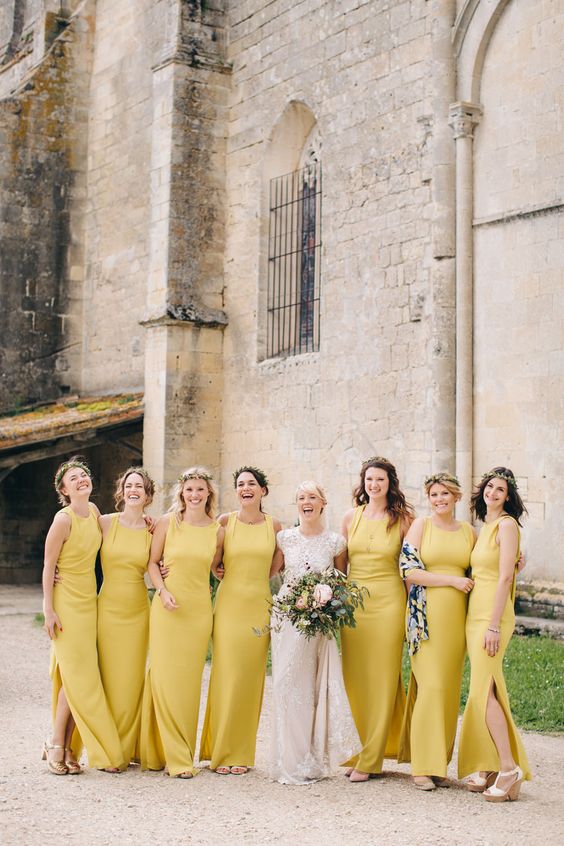 6) Bridesmaid Bouquet – Yellow and Navy are a classic combination, we love how the yellow bridesmaid bouquets pop against the navy dresses.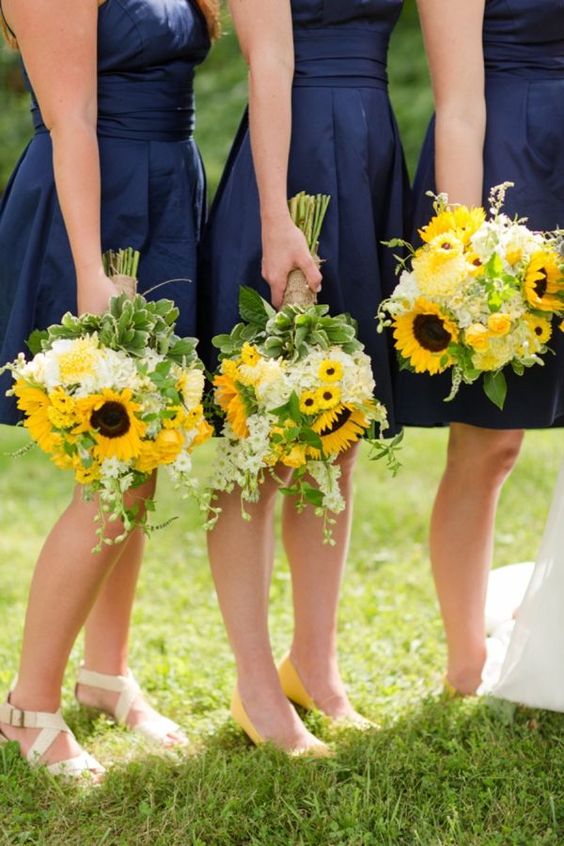 7) Signature Drink – Your guests will not be disappointed to be sipping on these pineapple mojitos. We love when couples have fun with signature cocktails (or mocktails :).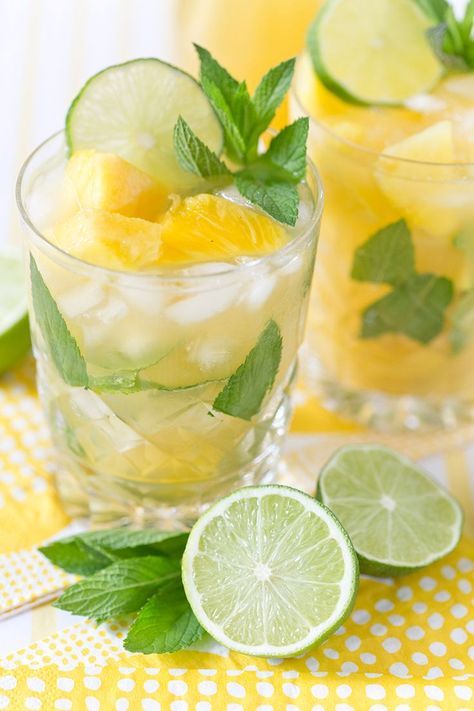 8) Invitation Suite – This wedding invitation is so a beautiful and classic. It has just the right amount of yellow accents in the envelope liner and accent pieces of the invitation suite.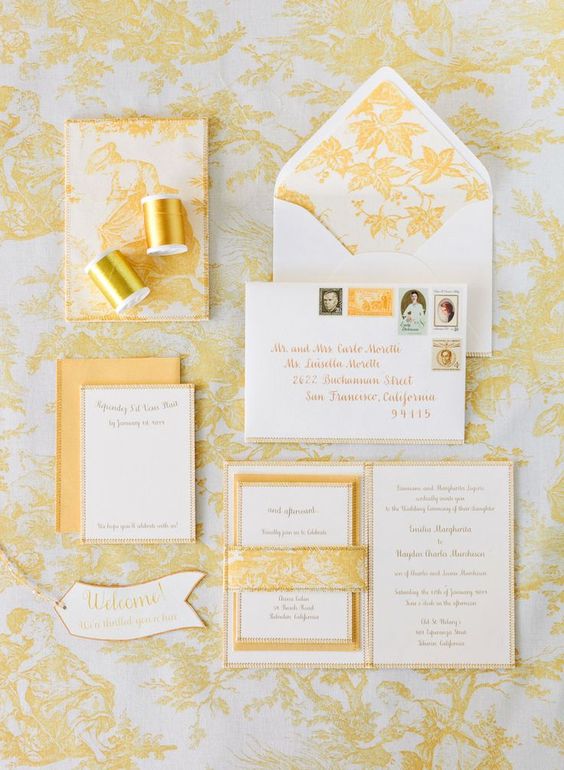 9) Wedding Cake – Wedding cakes are a great way to infuse your personality, style and wedding color. We love how this wedding cake is a bit playful and modern, while also feminine.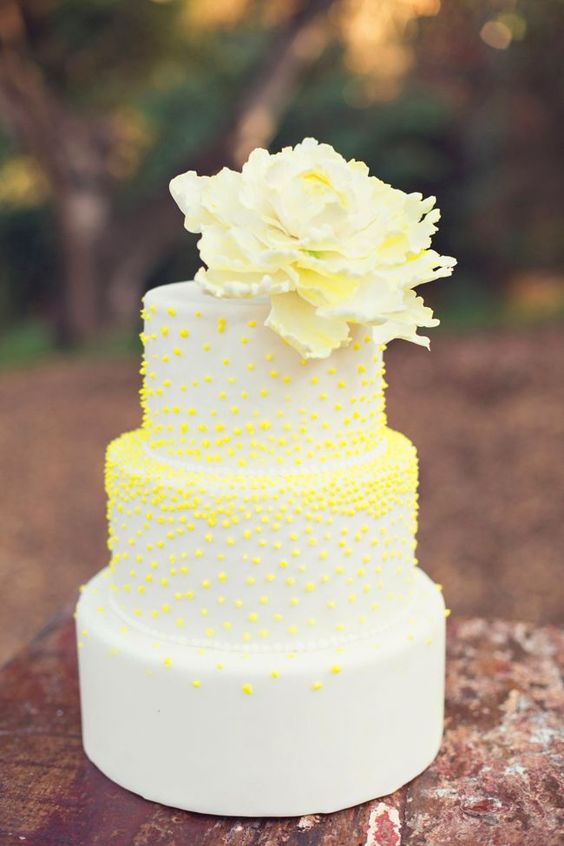 10) Yellow Wedding Dress – Colored wedding dresses are not for the faint of heart, but they are perfect for a bride who wants to be bold and show off her personality. This two-piece wedding dress is a stunning way to rock yellow as a bride.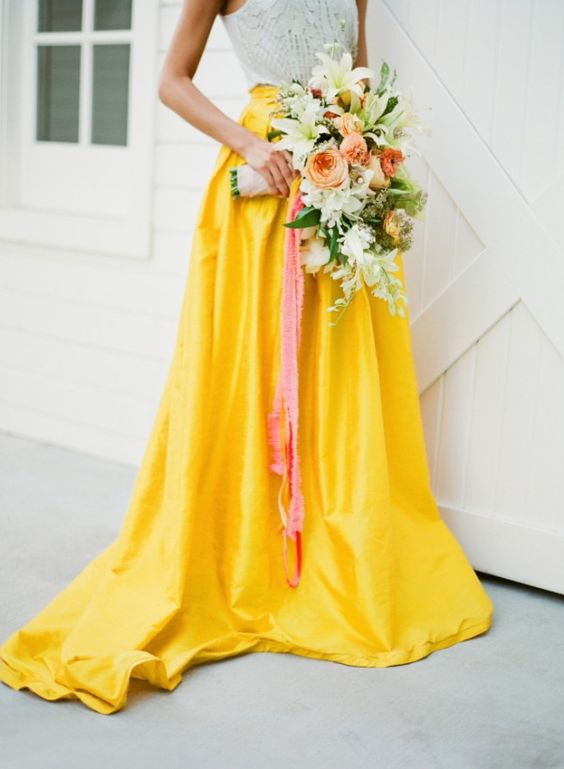 There are so many great ways to incorporate yellow wedding inspiration in your wedding or special event planning. We hope you are feeling inspired to incorporate yellow into the florals, paper, attire and other areas of your wedding design. Yellow is a cheerful color, and it's versatile to pair well a variety of colors and styles for your wedding ceremony and wedding receptions.
For information on working with Bright Occasions for your wedding and event planning or event design, please head to our service page.