Margo Fischer is an event planner and owner of Bright Occasions. She brings years of experience both in the corporate and private sector and loves working with clients to plan their gorgeous and one of a kind event. Margo draws upon her experiences in vendor relations, catering sales, event management and organization throughout the planning process. She has been named a top wedding planner and "tastemaker" by Be Inspired PR, with work featured by many local and national publications. With an eye for detail and whether you are a corporate client looking to host an upscale gala or a recently engaged couple hoping to plan one of life's biggest moments, Margo will bring her bright ideas to your special event.  
MESSAGE FROM MARGO Hi, I'm Margo. I came to Washington, DC fifteen years ago for college and have called the area home ever since. I am a romantic, lover of love, beautiful flowers, delicious food, pretty desserts and festive drinks. I believe that the event space sets the tone and is so important to get right! Besides my husband and family, here are some of my favorite things: travel, summer/the beach, dogs, Italian food and cooking. Fun fact, when I was a little girl I loved dressing up as a bride and playing tea party, so I guess it was only a matter of time before I starting planning weddings and events.  
1986 With my mom and in my favorite Halloween Costume, "A Bride".
1994 Growing up in a small town, with very little diversity, I felt left out of the holidays. I wrote a letter to our town mayor to ask him to put up a menorah among the other holiday decorations. To this day it is still put up for the holidays. That taught me not be afraid to speak my mind, and to always go after what I feel is fair and right.
1999 I was nominated to attend the National Young Leadership Conference in Washington, DC. Ever since I have loved this city!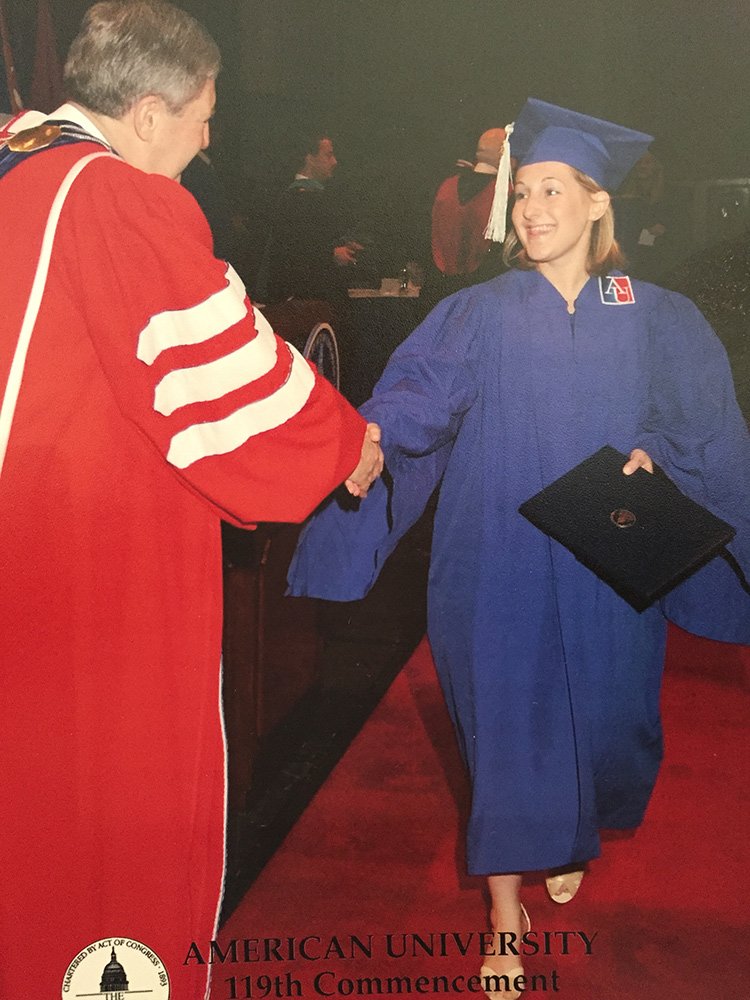 2005 I graduated from American University. I was a Public Relations major and had two minors in Sociology and Women and Gender Studies. Honestly, I had no real clue what I was going to do as a career, but I loved my event planning internships in college and looked for job opportunities in corporate event planning.
2009 I worked in Catering at this time for a boutique caterer located in Georgetown. I loved the behind the scenes action, getting to plan fabulous menus at amazing venues all over town. I found that I excelled in developing relationships with clients.
2010 I married the love of my life! We had a traditional Jewish wedding in the heart of DC. It was classic DC that merged my husband's love of architecture (he is an architect) and my love of good food, music and a beautiful atmosphere.
2011 Not having ever thought I should be a wedding planner, I had a conversation with two friends that changed my life. They were planning a cocktail style wedding in NYC. I was giving them advice for the catering side. They planted the seed and told me that I should be a wedding planner and start my own business. I am forever grateful to my friends for encouraging me and for the support of my family.
Today I'm so fortunate to have a career that I love and excited to see what is to come! Thank you for stopping by.