Lately I have been having such a color crush on orange. It is a super versatile color that can be romantic, modern, bright, soft or edgy when paired with other hues and I wanted to share some favorite orange wedding inspiration ideas. When it comes to wedding colors, white, blush and pink are the most sought after. But orange is such a great color choice to incorporate. Orange is a color that can go with many different wedding styles and other colors. I love pairing orange with soft pastels for a more romantic look, whites and neutrals to keep it timeless, and other deep or bold tones for something more dramatic. We love working with clients in the DC area to plan and design their wedding. Today we are sharing 10 of our favorite ways to incorporate orange wedding inspiration:
1) Wedding Entrance Columns – why not welcome your guests with floral columns and custom monograms. We loved working with B Floral to create this look. The orange hued roses stole our hearts and really pop against the greenery.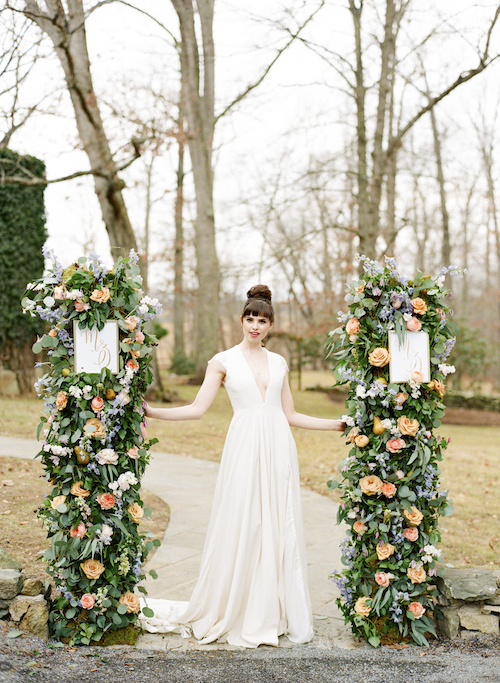 2) Ceremony Arch – We love a floral arch backdrop for the ceremony. This couple chose bright orange flowers, but softened with greenery.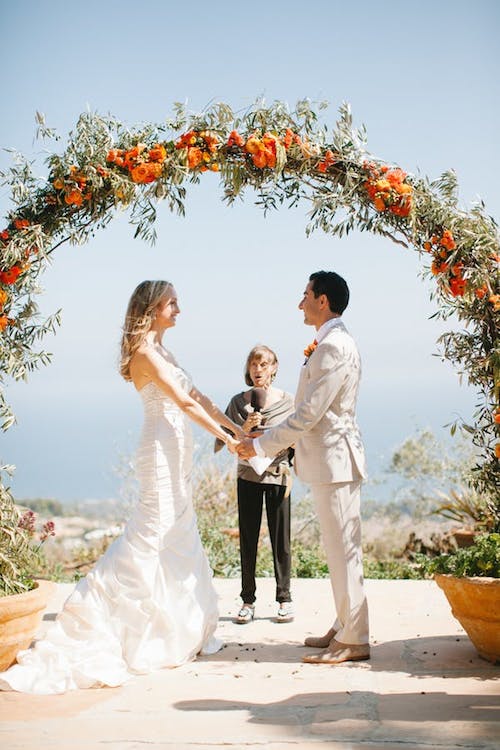 3) Bridal Bouquet – Our bride chose a classic bouquet of white peonies, but included pops of orange ranunculus, for a perfect spring bridal bouquet.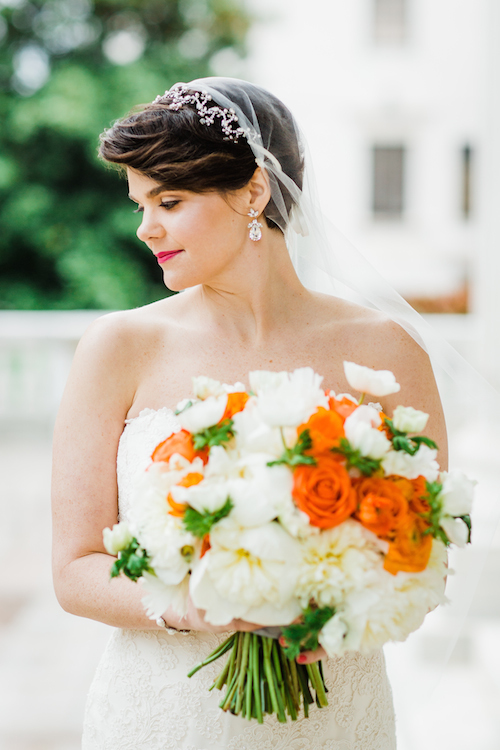 4) Bridesmaids Dresses – Orange is not a common Bridesmaid dress option. But for an outside summer or early fall wedding, we think it's a perfect choice!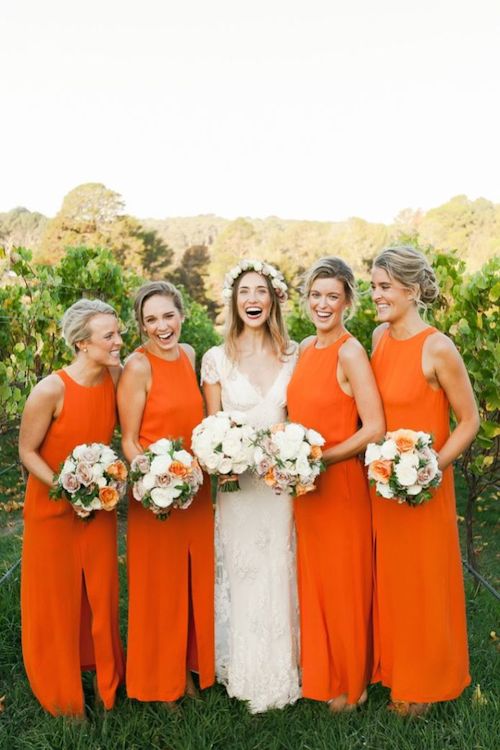 5) Groom – We love a coordinated tie/boutonniere combination. Our groom chose a bright orange  tie and boutonniere, which popped against his gray suit.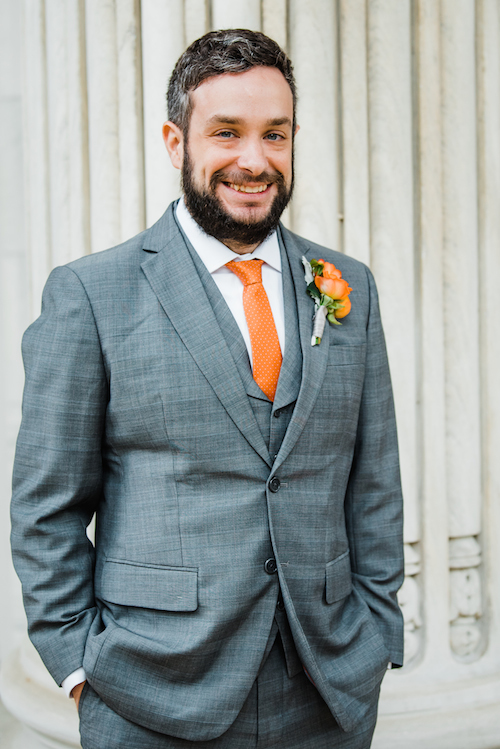 6) Statement Jewelry – Statement jewelry is perfect for a bride that wants to stand out in the cutest way possible. Our bride chose these sweet orange flower earrings, and they looked stunning combined with her off-the-shoulder dress.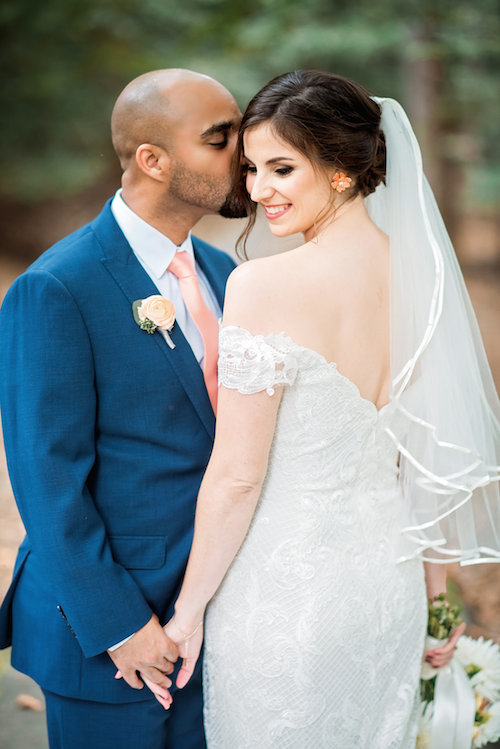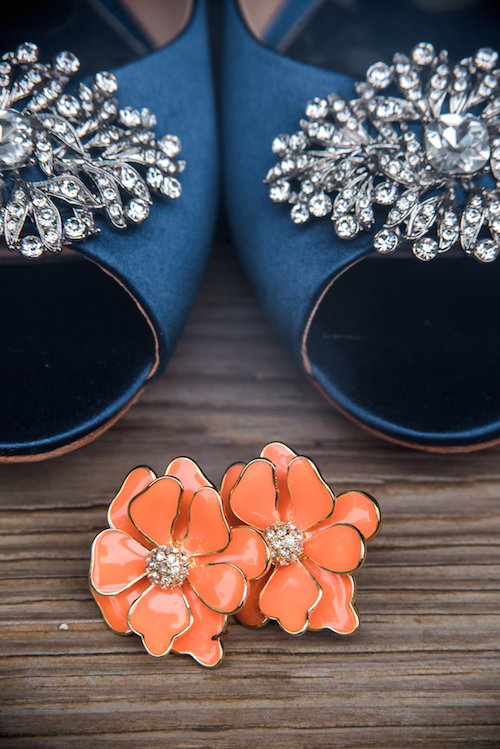 7) Centerpiece – we couldn't choose just one centerpiece. But instead are showing a few different ways you can utilize orange in your florals, napkins, and even by adding little touches of citrus.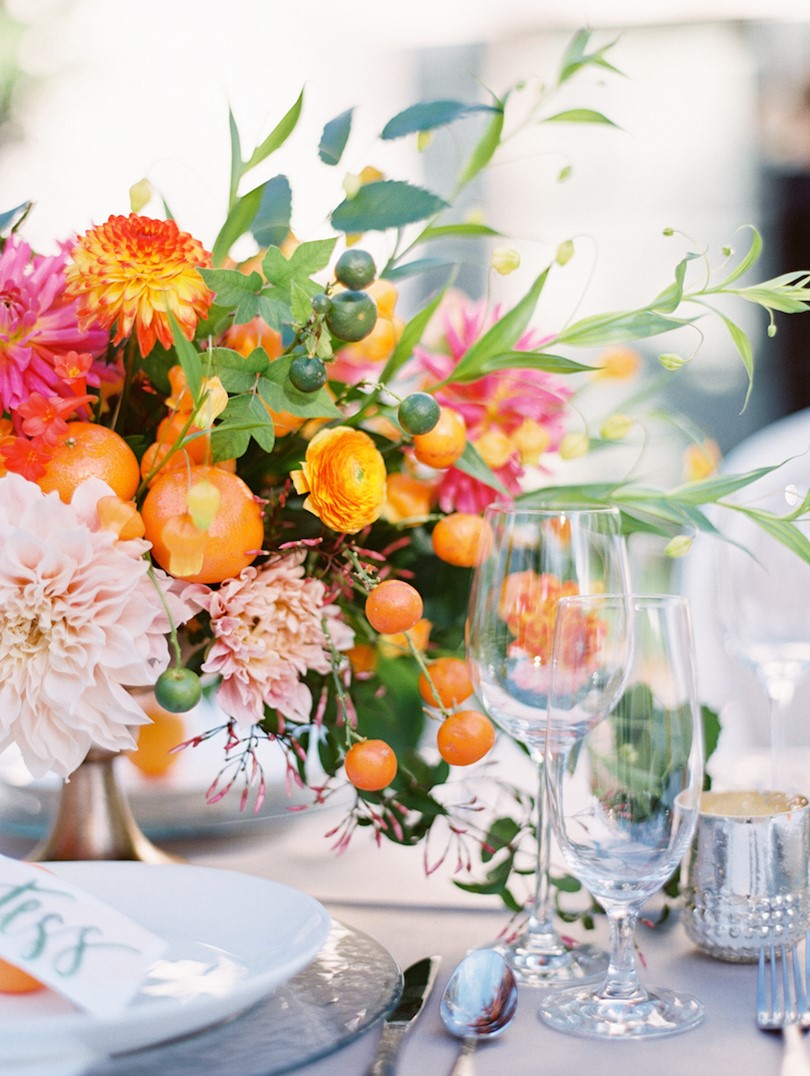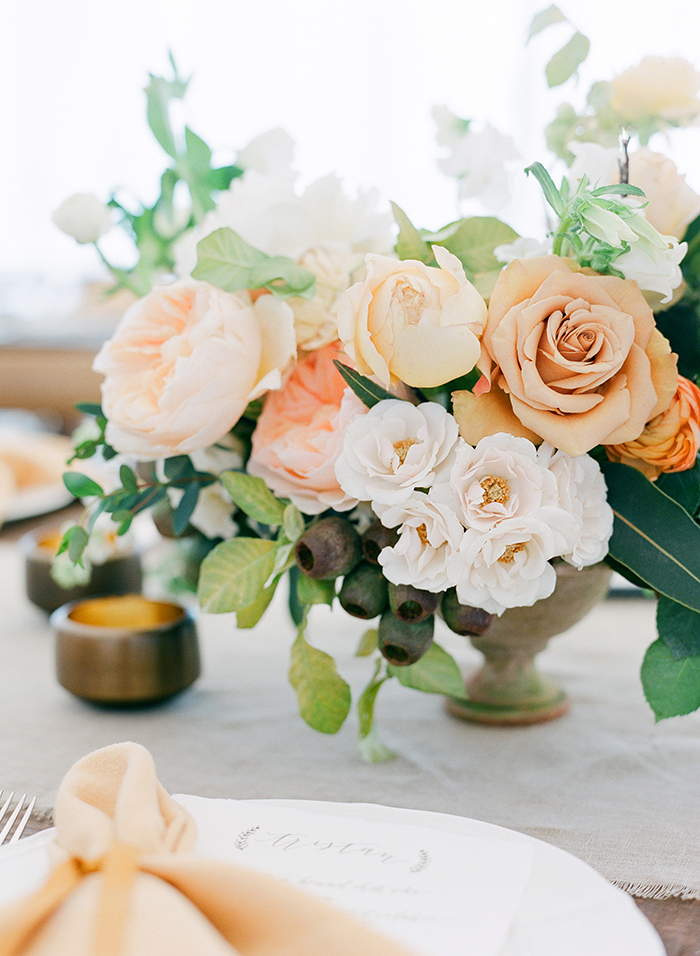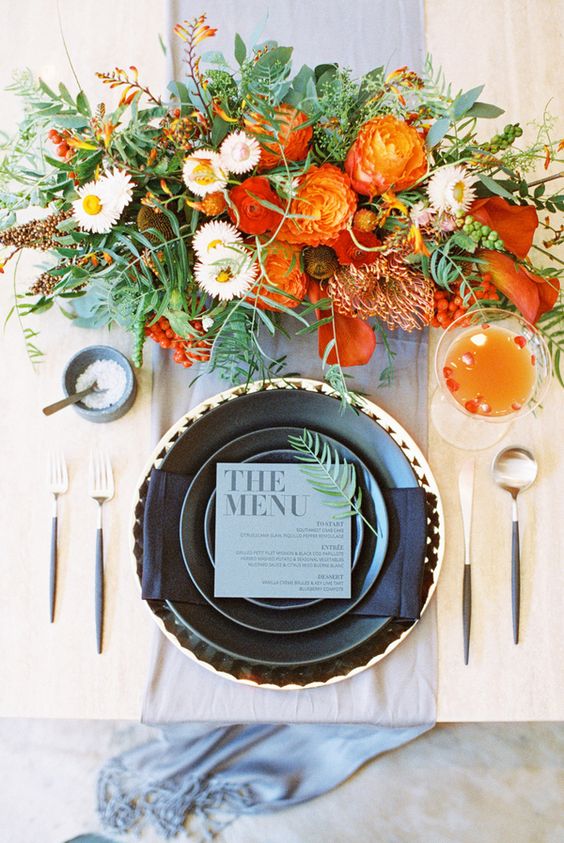 8) Head Table – Many of our couples opt to sit at a long head table with seating on both sides. We love how B Floral created centerpieces that are literally growing up from the table. The orange roses are a perfect combination with the soft spring tones.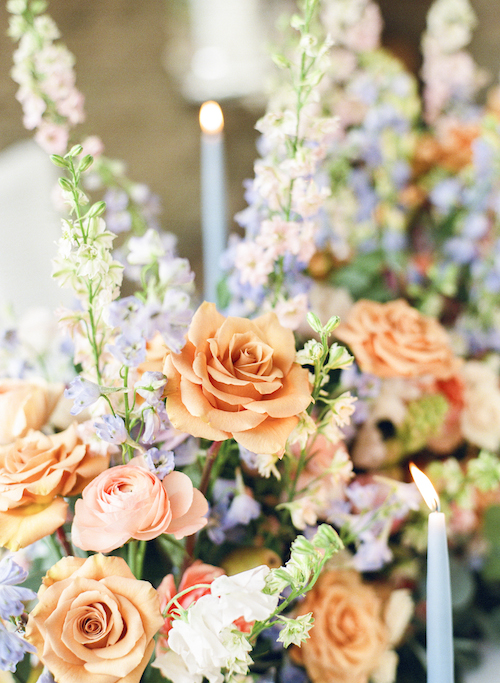 9) Wedding Cake – Whether you are looking for a hand painted cake or just something simple with orange floral (or fruit) accessories, here are a few cakes we just had to include.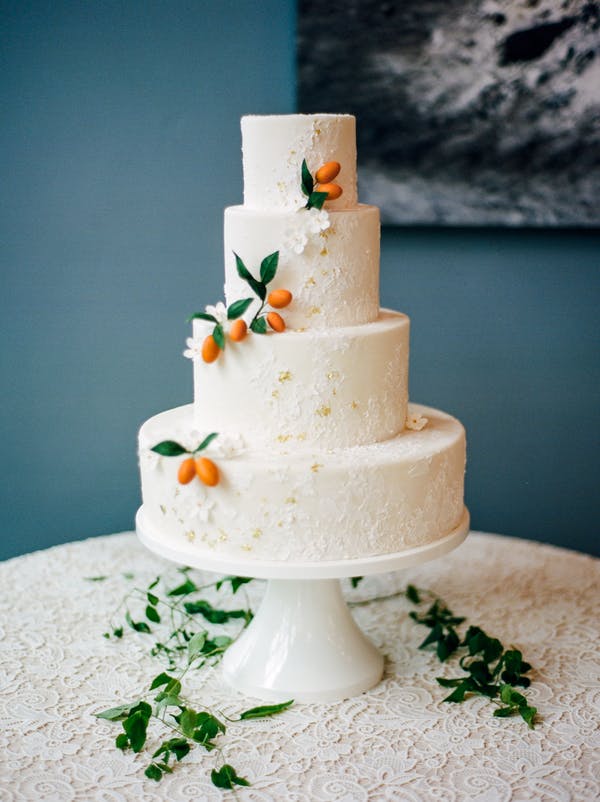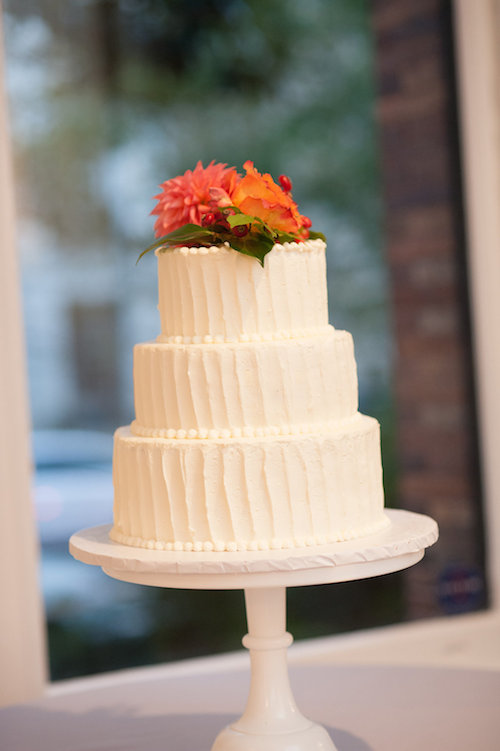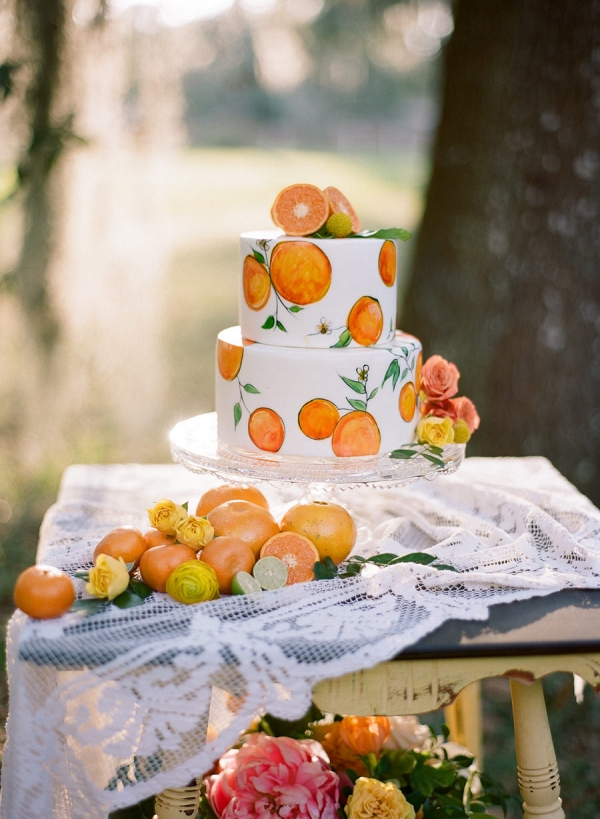 10) Invitation – When it comes to invitations, clients can go in a few different ways. But we always love something that combines traditional elements with pretty details. And you can't go wrong with a pop of orange in the envelope and citrus in the envelope liner and invitation detail.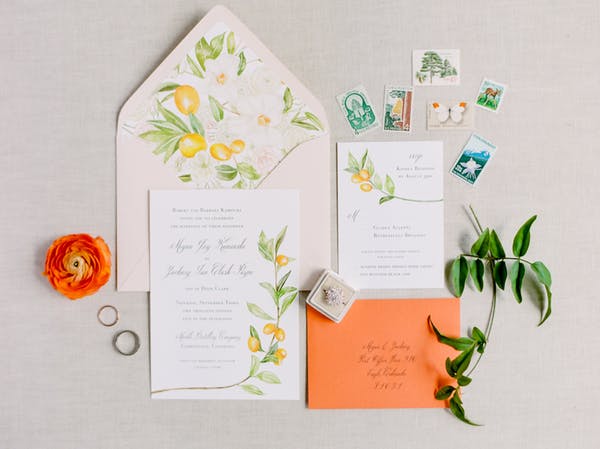 11) Signature Cocktail – Signature cocktails are a no brainer, they are a fun detail and always enjoyed.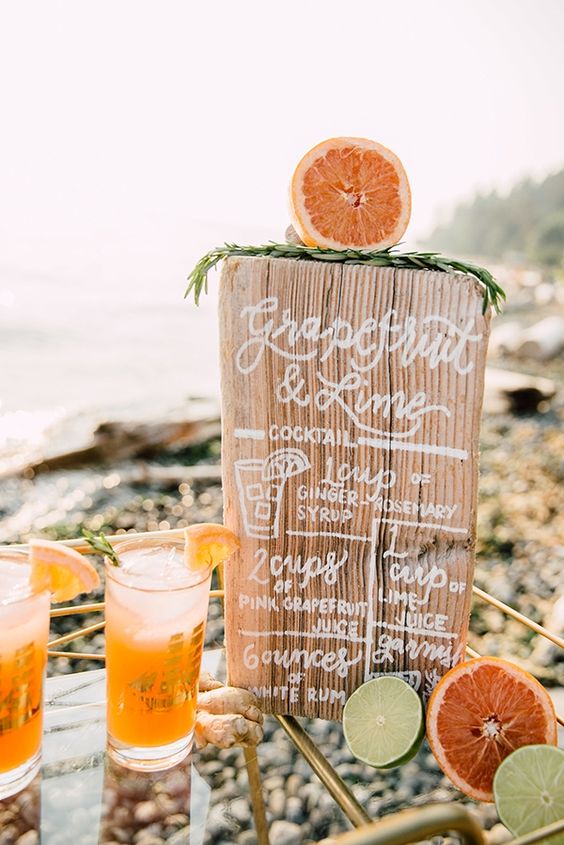 There are so many great ways to incorporate orange wedding inspiration in your wedding or special event planning. We hope you are feeling inspired to incorporate orange into the florals, paper, attire and other areas of your wedding design. Orange is a beautiful versatile color to pair well a variety of styles for your wedding ceremony and wedding receptions.
For information on working with Bright Occasions for your wedding and event planning or event design, please head to our main page.