We recently teamed up with top event experts in the DC area to put together an indoor elegant watercolor garden wedding inspiration photo shoot that featured watercolor stationery and a dramatic hand-painted and floral backdrop. We showcased our wedding ideas at the National Cathedral School, a terrific location to host weddings and special events. As an event planner it is always so rewarding to work with other wedding professionals to dream up new ideas for wedding and event styling that may provide inspiration for current or future clients. Bonnie Sen Photography did an amazing job at capturing the details. Our work was recently featured in Once Wed; a high-end website featuring film photography and gorgeous one-of-a-kind real weddings and inspiration wedding photo shoots. I cannot thank Heidi at The Dandelion Patch enough for asking me to team up with her and her team to create this inspired wedding design (see the full wedding vendor list below). I will be sharing a full gallery soon, but in the meantime here are some favorite ideas from the photo shoot, to see the full feature head over to Once Wed: Elegant Garden-Inspired Indoor Wedding Ideas.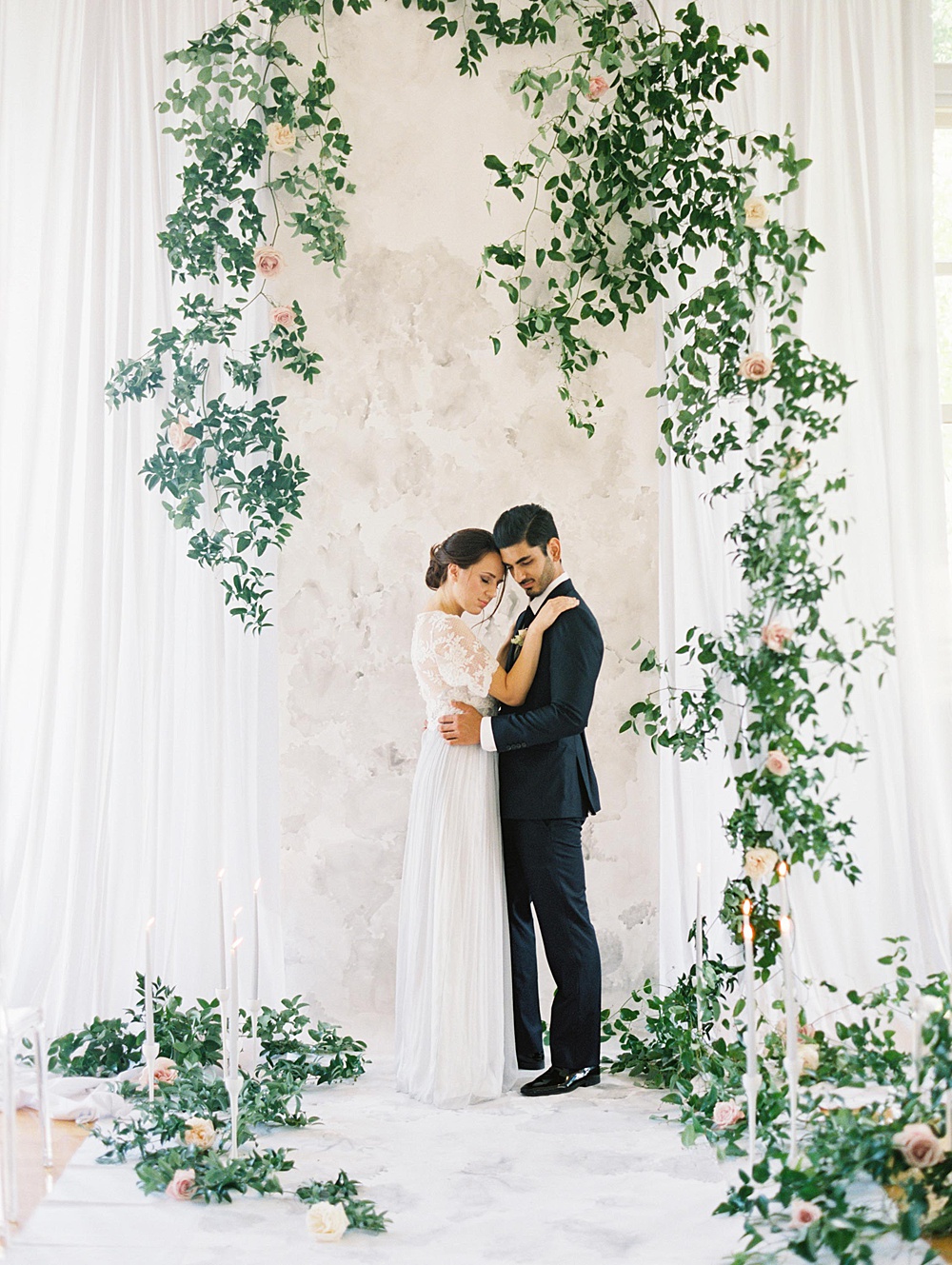 Watercolor stationery set
When Heidi at The Dandelion Patch asked me to put together a photo shoot with her, I was so excited to team up with her and some top wedding professionals in the DC area and across the country. She had provided a beautiful watercolor invitation and day-of stationery set with pink, white, gray and gold. We wanted to compliment the invitation, without being too matchy-matchy, in the rest of our design. The end result is a romantic wedding design with contemporary touches and a timeless style, incorporating blush, gray, light blue, white, gold and lush greenery. I cannot wait to share more of the beautiful paper from this elegant garden inspired photo shoot with you all.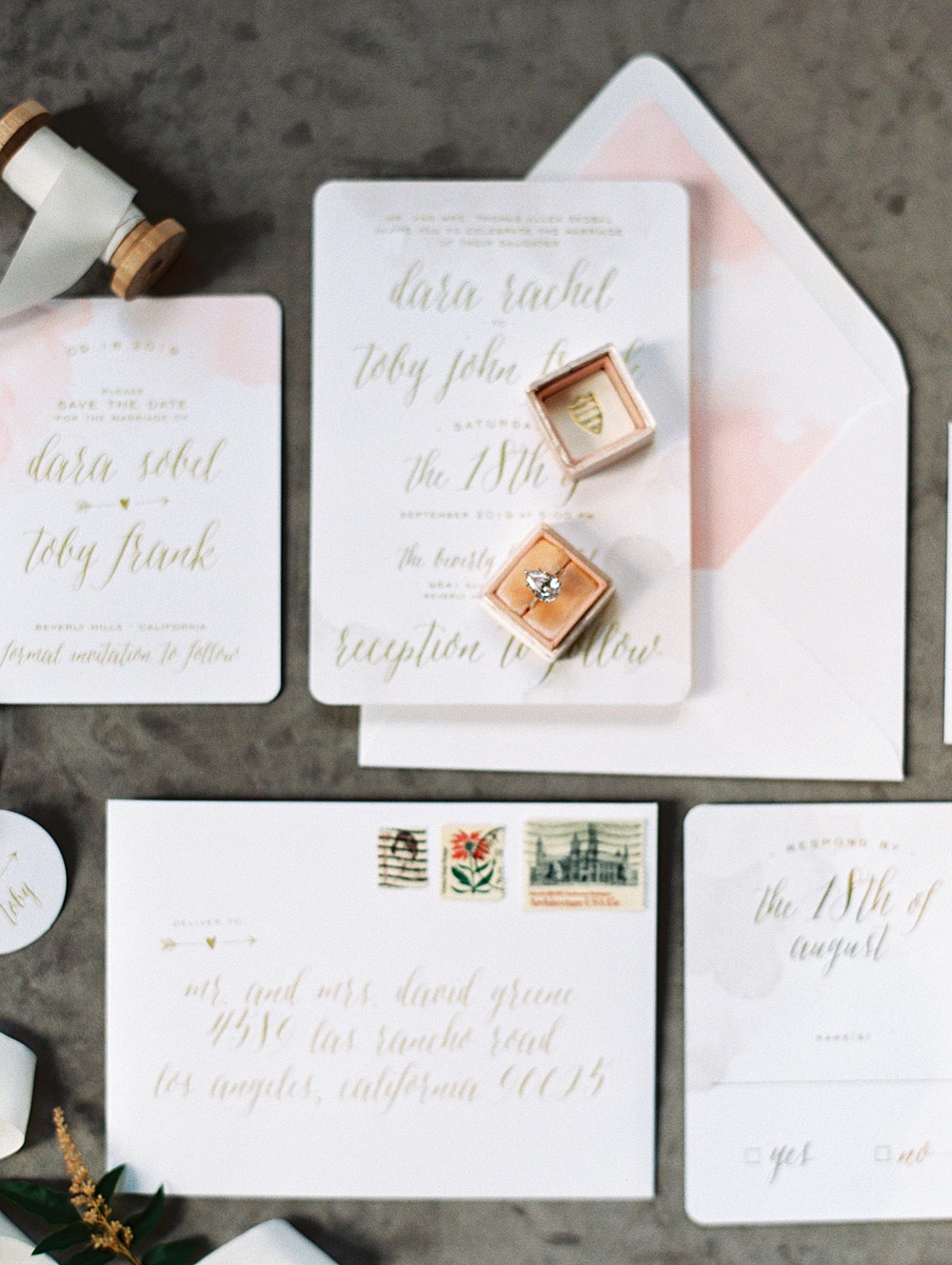 Whimsical Ceremony Backdrop
We emphasized the organic movement of greenery throughout our wedding ceremony and reception details. This 25 foot long gray marble hand painted backdrop and aisle by Brittany Branson anchors the ceremony space giving it added depth and richness. The painted backdrop is also a perfect compliment to the blush and gray watercolor wedding invitation and stationery set with modern gold lettering. And we love the way Petals by the Shore added in the lush greenery and florals in an organic way, as though it is growing up and around the ceremony alter and aisle.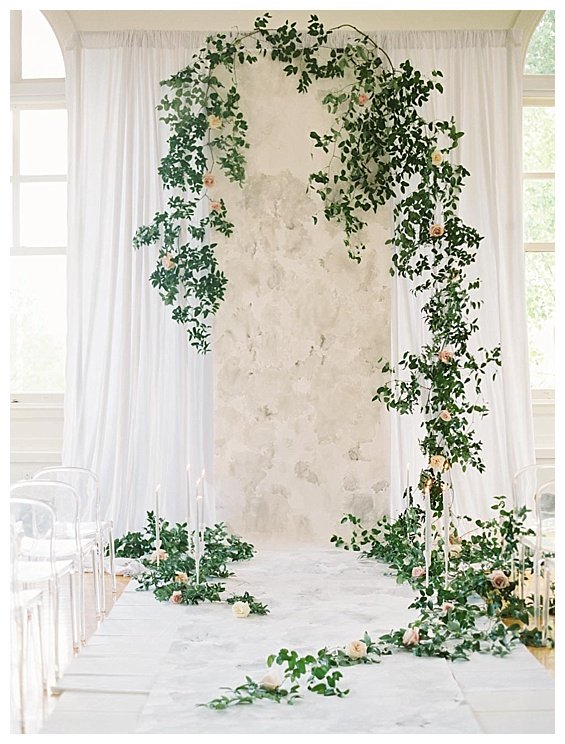 Vintage Bar Cart Repurposed as a Cake & Dessert Table
The vintage gold bar cart was a perfect addition to include in our wedding inspiration. In addition to creating a small bar table and cocktail set-up, we used the vintage bar cart to display our stunning hand-painted wedding cake by Catherine George Cakes. I love the added greenery and display of French macarons to the side.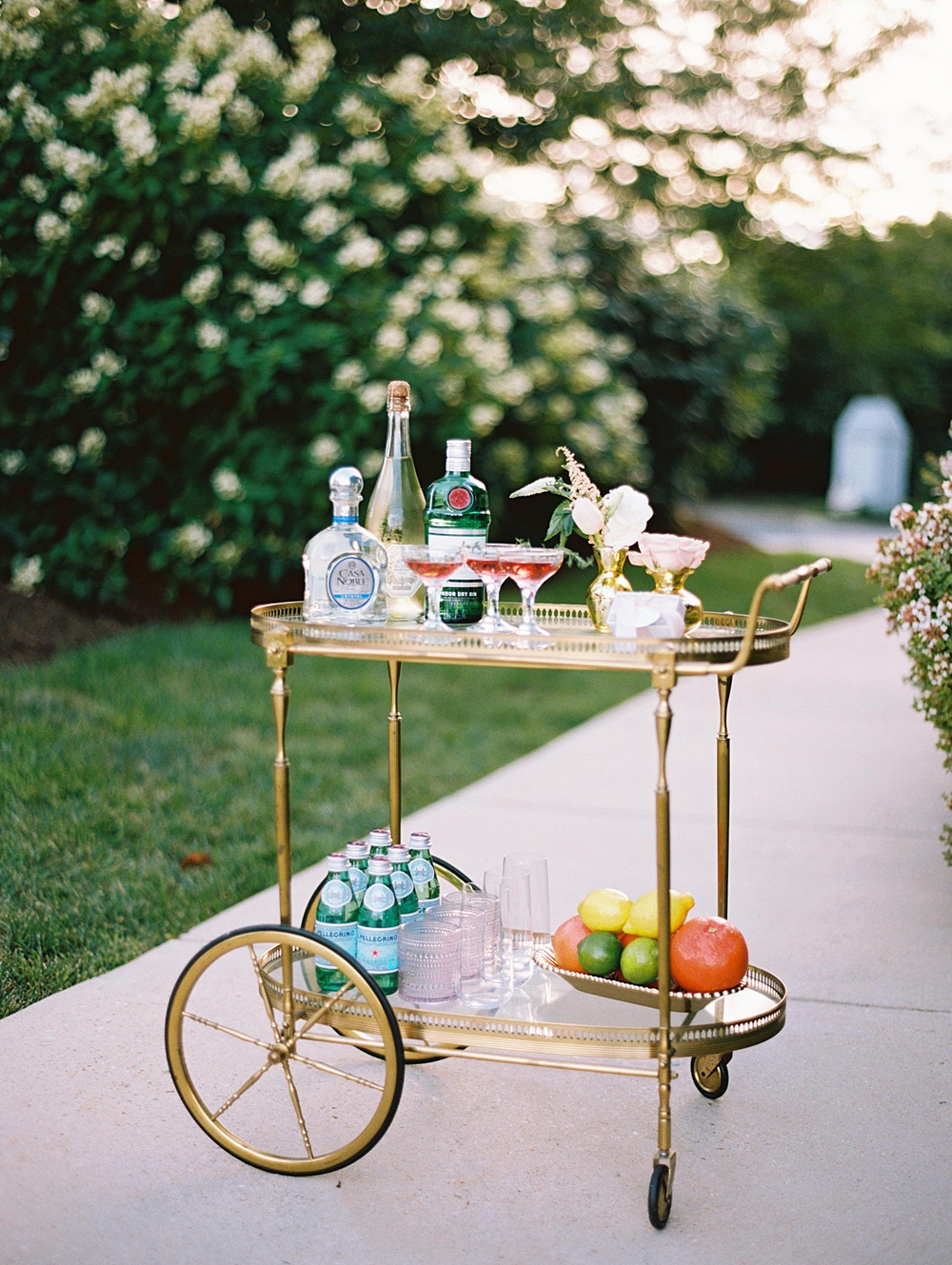 Something Blue, Wedding Dress
Our beautiful bride is wearing a soft blue-gray bridal gown and lace coverlet by pas de deux bridal, with understated and natural hair and make-up by Amie Decker Beauty. The lace coverlet is a perfect addition, which also gives the look of separates, a trend we are seeing a lot more of in bridal fashion. The soft blue color is so romantic for a bridal gown, don't you think?

Piano Escort Card Display
The piano escort card display is such a fun surprise. While, this is idea may not be feasible for a real wedding to copy, couples could take elements of the inspiration to incorporate on their own escort card display. I love how the greenery is again spilling out of the piano and the delicate blooms add to the elegance. The escort card paper is a match to the wedding invitation set and we strongly recommend that clients think about choosing stationery that they can incorporate throughout all of the designs of their event.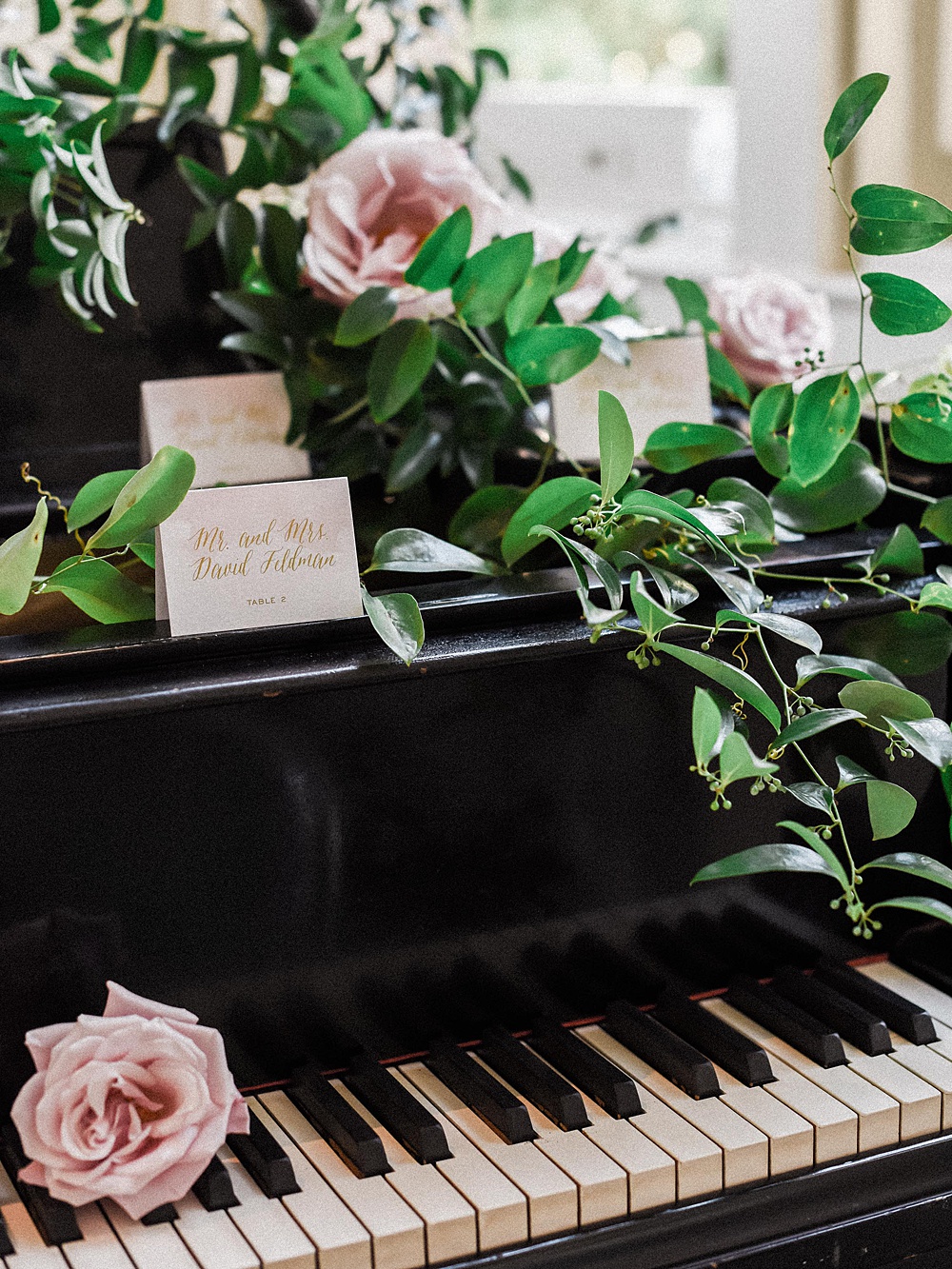 Luxe Wedding Welcome Gift
We loved teaming up with Marigold & Grey, who creates the most amazing wedding and corporate gifts, to put together this wedding gift inspiration. The individual bottles of rose champagne, candle and stunning pink pashmina are the epitome of class and elegance. Not to mention the delicious French macarons and custom chocolates.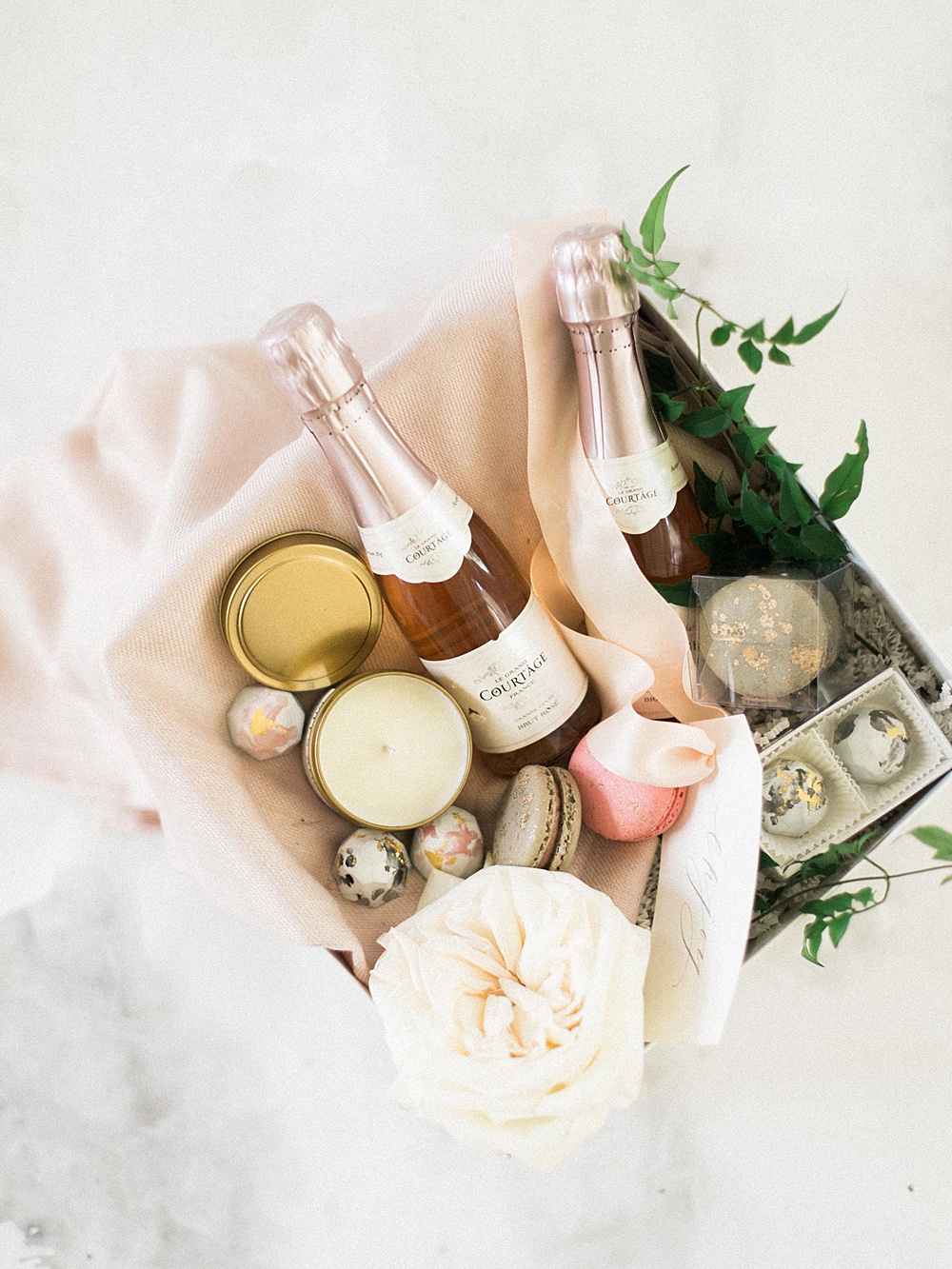 Getting to team up with an insanely group of talented wedding professionals to create this beautiful wedding photo shoot at the National Cathedral School was such a dream. Stay-tuned for the full gallery from this watercolor garden wedding inspiration that was featured on Once Wed in the coming weeks. In the meantime, you can see more of our featured work and wedding inspiration on our website.
Vendors:
Wedding Planner: Bright Occasions
Photography: Bonnie Sen Photography
Venue: National Cathedral School, Danielle Capecchi
Invitation Suite: The Dandelion Patch, Heidi Kallett
Wedding Cakes: Catherine George Cakes
Florals: Petals by the Shore, Kelly Shore
Wedding Gift: Marigold & Grey, Jamie Kutchman
Hair & Make-Up: Amie Decker Beauty
Artist: Brittany Branson
Draping: Drape Kings, Meredith and Marybeth
Rentals: Select Event Group
Vintage Furniture: Something Vintage
Wedding Dress: pas de deux bridal
Rings: Susie Saltzmen
Groom's Suit: Alton Lane
Models: Anastasiia Putkova + Sepehr Hajireza
Questions email me at – thebrightoccasions@gmail.com – www.brightoccasions.com