We love working with couples for their private home wedding planning and are sharing some important advice below. Weddings are celebrations of love and commitment, joyous gatherings of friends and family who share in a moment that all will long remember. They're also opportunities for the intended pair to leave their mark with a distinctive ceremony. Many couples today are opting for wedding locations and venues where they can make a personal statement as well as a place that will convey a sense of elegance and intimacy. Nothing is more personal than a private home wedding. As most private homes are not traditional venues with large indoor spaces, couples who choose to get married at home are often planning everything to happen in their backyard.
A private home wedding conveys elegance and intimacy in a lush outdoor setting, where the bride and groom can relax and truly enjoy their big day. Though less formal than a church wedding, a private home and backyard wedding requires a considerable amount of planning, preparation and at least a little bit of luck where the weather is concerned. Making a checklist of "to do's" is essential so that nothing slips between the proverbial cracks.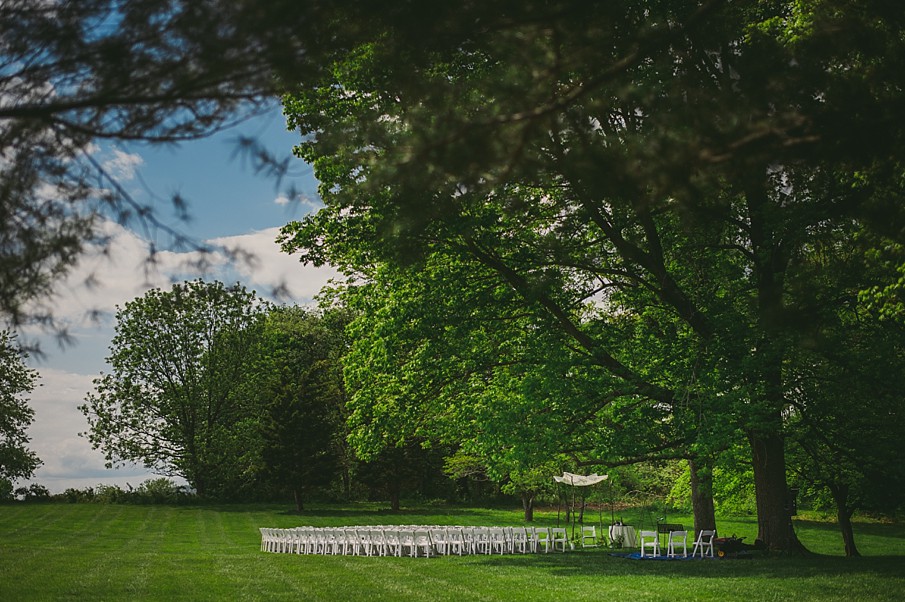 First things first
A private home wedding means that you've committed to turning your backyard and home into a showplace for a day. That's a big decision and you'll have to take careful note of any household repairs or modifications that have been put off or left undone. Whether it's a fresh coat of paint on your home's exterior or a cracked driveway that needs repairing, it'll need to be done as soon as possible so your surroundings don't detract from the main attraction.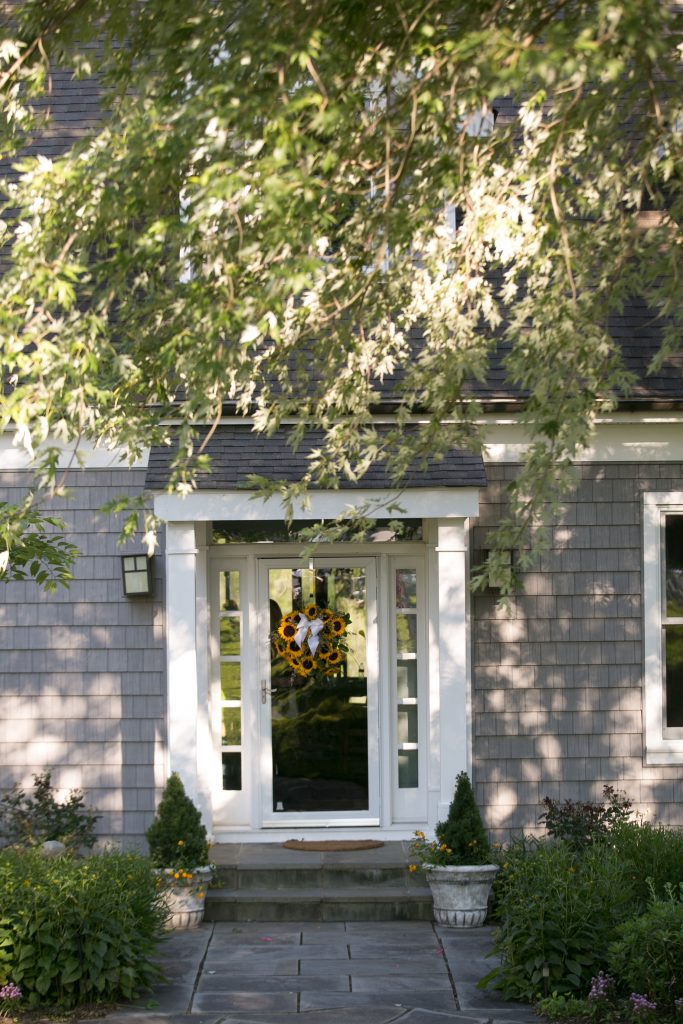 Contingencies and preparations
Think through any logistical arrangements you'll have to make. The caterer's equipment may require an accessible power source, so you may need to rent a generator. Selecting a menu is one of the most important tasks. The caterer can help you arrange a selection that appeals to everyone, but review the guest list carefully in case there are invitees with special dietary needs. If you're renting large tents to accommodate your guests, knowing where power lines and water pipes are is very important. And almost always necessary are renting portable bathrooms, not exciting, but important nonetheless!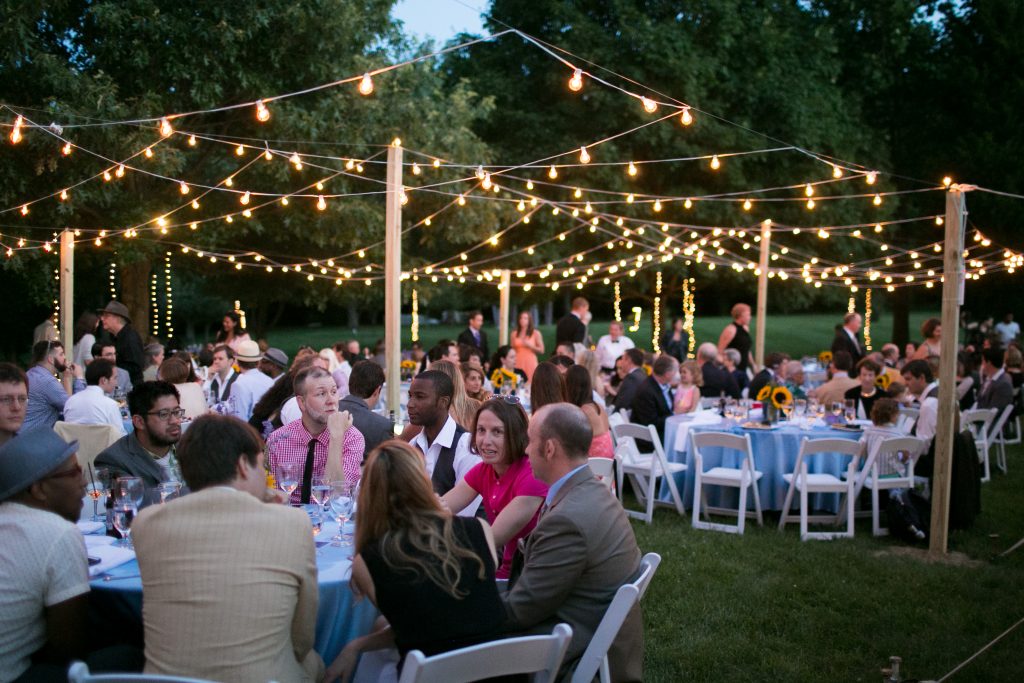 Expect the worst
The golden rule for planning an outdoor wedding is "hope for the best, plan for the worst." That means be prepared if the weather man doesn't cooperate. Your tent should have sidewalls to keep out the wind (it's no fun trying to eat moving objects). Think about what happens to your yard when it rains. Are there areas where water tends to gather and deepen? Consider covered walkways if you'll need more than one tent. Put together a contingency plan in case guests need to move indoors for their own safety.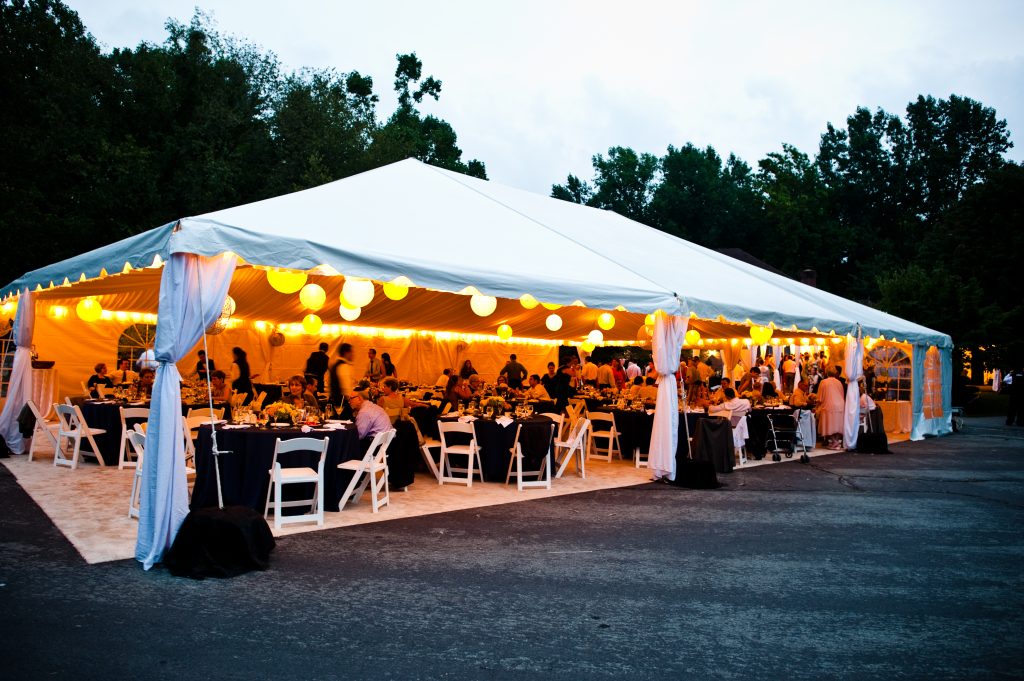 Check your insurance
The unexpected can happen even at a wedding. Someone may choose to polka during a slow dance and cause havoc on the dance floor. That hanging tree limb you were sure would hold up could pick that day to come crashing down. Go over your homeowner's insurance policy carefully to see if there are any coverage "holes" that might need to be plugged before a single guest is seated.
Budget
Most wedding planners recommend keeping track of the budget and to plan costs around the decorations, like an arbor, trellis or pergola,  as well as the tent, valet and other items that may be required for planning wedding at your home. And give yourself always time to shop around for deals, many of which can be found through online resources.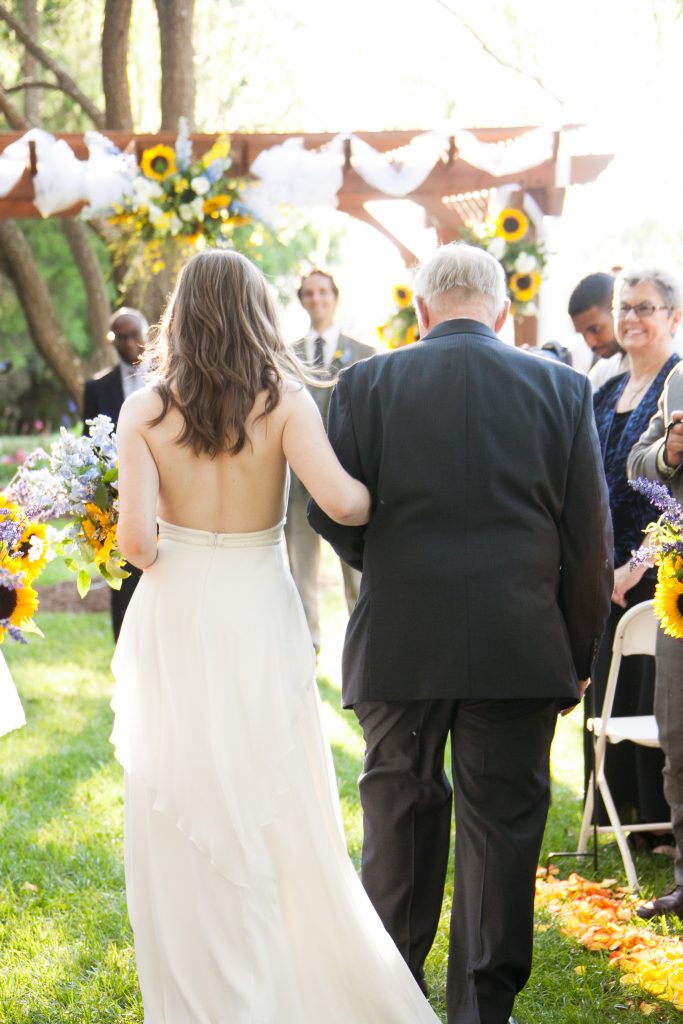 Thinking ahead
Preparation and planning are the keys to a successful private home and outdoor wedding. Once you have a date set, begin breaking down the details right away so you can deal with them piecemeal, and check them off as you go. Thinking ahead can give you the memorable wedding you always wanted.