Thanksgiving decor ranges from simple tablescapes of pumpkins and gourds to elaborate displays with floral design and candelabras. No matter your taste or budget, decorating your home for Thanksgiving creates a warm and inviting ambiance. I have always loved Thanksgiving, it is a wonderful time to get together with friends and family. And as an event planner, for me personally it's a nice change of pace from planning weddings and events in the DC area, to focus on creating a fun celebration for my family. Plus it's a perfect excuse to break out our fine china, flex my cooking skills, and to decorate the house with my favorite fall designs. I have discussed Thanksgiving decor in the past, so you may already be aware of my affinity for the holiday!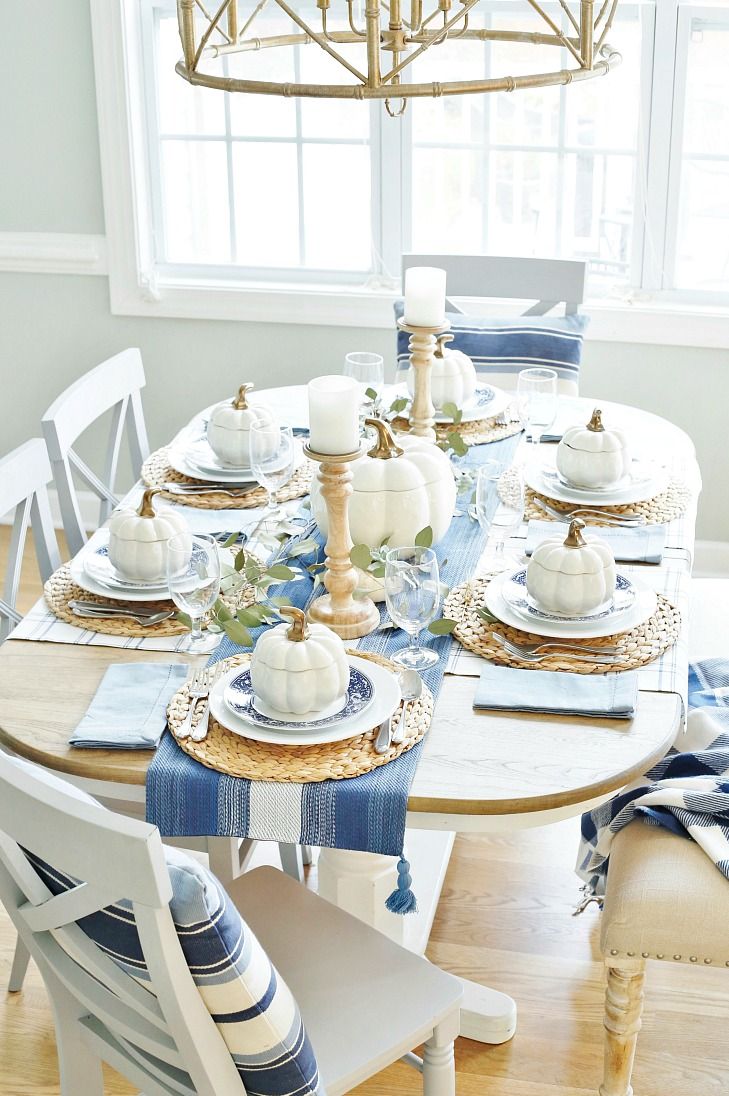 Photo via Elle Decor, 20 Beautiful Thanksgiving Table Decor Ideas
I always find the best Thanksgiving decor inspiration for my home are things that can be done easily, may be items you already have on hand, or that you can find to purchase at a nearby craft store. Here are 5 easy ways to decorate your table, buffet and/or mantle for Thanksgiving.
Metallic Pumpkins 
For a super chic and relatively easy way to decorate, try metallic pumpkins. You can do this as a DIY project or you can find cute painted pumpkins at your local craft and decor stores. I love the look of metallic pumpkins paired with mercury glass votives. To take this a step further, how about a mix and match of gold, silver, rose gold and copper pumpkins with mixed-metallic votive candles.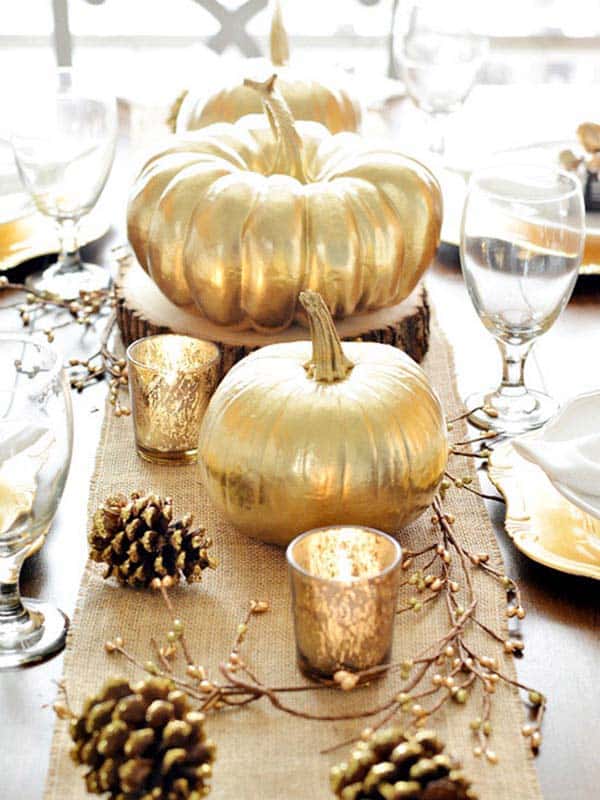 Photo via One Kind Design: 47 Fabulous DIY Ideas for Thanksgiving Table Decor
Hurricane Candles and Chestnuts
There is something so warm and inviting to candles. Add in a seasonal element, such as chestnuts, and you have an easy and beautiful way to decorate for Thanksgiving. I love the look of candles in varying heights, which could be set down the center of the dinner table or off to the side on your mantlepiece. To take this a step further, how about adding in other seasonal items such as sage and cranberries to add in more textures and color.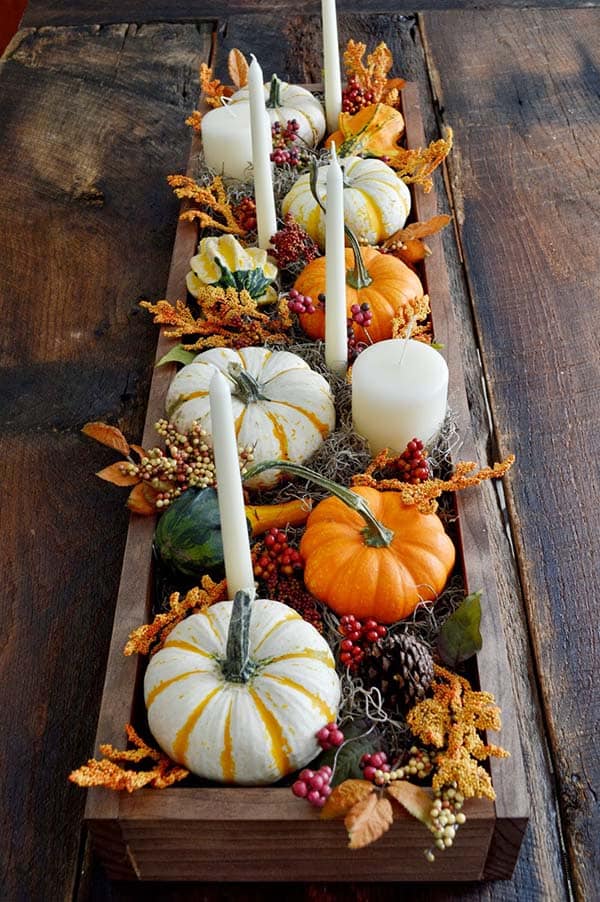 Photo via One Kind Design: 47 Fabulous DIY Ideas for Thanksgiving Table Decor
Plaid and acorns
A plaid tablecloth or table runner is such a fun and seasonally appropriate look to celebrate Thanksgiving and to kick off the holiday season. Combined with acorns, greenery and candles and you have a complete Thanksgiving tablescape. I love the rustic chic look of the plaid with the wood chargers at each place setting. Plaid also comes in a variety of colors, loving this look of the purple plaid.
Photo via Shelterness.com Plaid Placemats for Thanksgiving
Wheat
Thanksgiving is a time to celebrate nature's harvest and this wheat centerpiece is perfect for the holiday table. You can easily find a vintage style pitcher and wheat at a craft and decor store, such as Home Goods to recreate this look. To take this a step further, try adding in additional pumpkins and/or gourds plus votive candles down the table and on your mantle.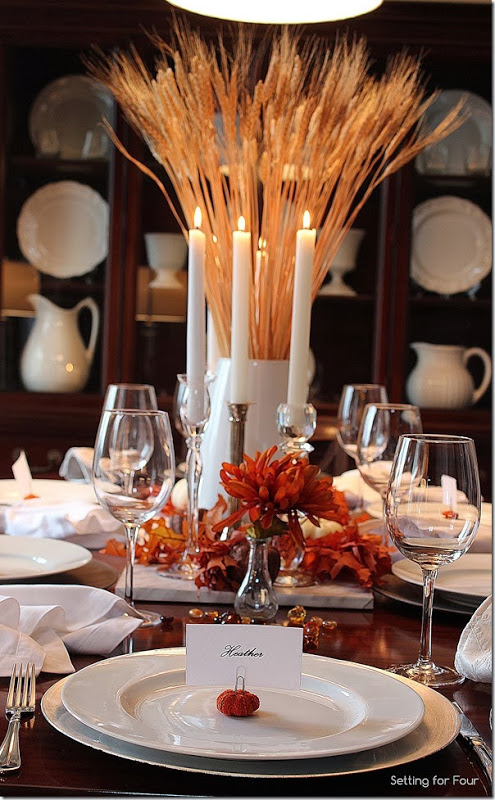 Photo via Setting for Four Thanksgiving table
Kraft Paper 
Kraft Paper lends itself to a variety of easy DIY decor ideas for Thanksgiving, such as a banner for your mantle or this sweet table runner. I love the idea to use kraft paper instead of a tablecloth. Plus the clean-up is so easy, you just toss the paper once dinner is done. You can add a hand-written menu to each place setting, calligraphy for guest names, and even leave a space for guests to write what they are thankful for. To take this a step further, you could have seperate paper place mats for the children at your table to use and have as a keepsake after the holiday.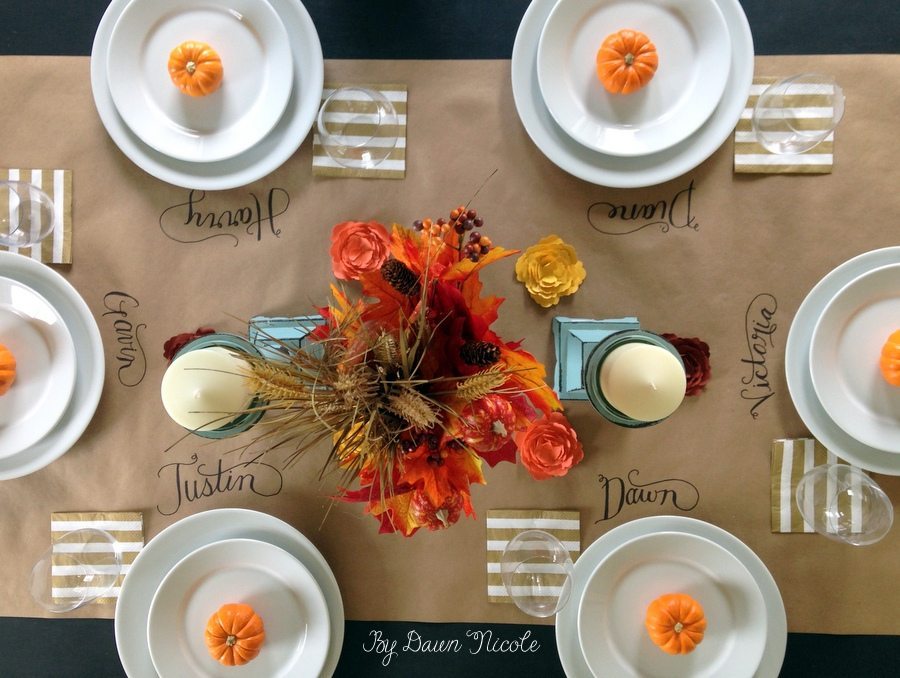 Photo via By Dawn Nicole Thanksgiving table
To see some more ideas and inspiration we have posted for your Thanksgiving decor on the see it here on the blog.